"Get Your Body In The Game"
Workouts and classes to help golfers move better, feel better, and play better golf.
Start Now!
Fitness Training For
Golfers At Every Level
Golf-specific workouts
for home and gym
Designed By Tour
Proven Expert Coaches
Add Flexibility, Speed and Distance
Daily Workouts for
optimal results
Golf Fitness Training From The World's Best Coaches
Golfers at all levels – including Top Pros – trust our team to deliver no-nonsense efficient training for serious game improvement. Now you can too. You commit, they deliver.
Faster club head speed
Sleek, strong and flexible muscles
Plenty of energy for another round
Quicker recovery from game day exertion
A complete golf body to help prevent injury
Meet the TOUR-Proven expert Team
These guys pioneered golf-specific fitness training on Tour. Their proven methods help the best players in the world move better and play better golf. Put them to work for your ultimate golf gains.
One of the true pioneers in the field of golf-specific fitness training, "Coach Joey D" Diovsialvi has worked with the top pros in the world for over 30 years. 
Clients
Dustin Johnson, Brooks Koepka, Vijay Singh, Rickie Fowler, Keegan Bradley, Pat Perez, Jason Dufner, Chez Reavie, Tommy Armour, III, Sophie Gustafson, Alison Walshe, Meagan Francella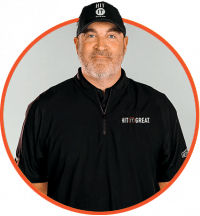 One of the country's top sports performance coaches. His success with Tour pros, NFL and MLB players is proof that Kolby knows how to optimize the human body for sports.
Clients
Tiger Woods, Justin Thomas, Lucas Glover, Harold Varner III, Max Homa, Tommy Fleetwood, Sam Burns, Talor Gooch, Matt Wolff, Sungjae Im, Jessica Korda, Lexi Thompson, Michelle Wie, Austin Ernst, Marina Alex, Jaye Marie Green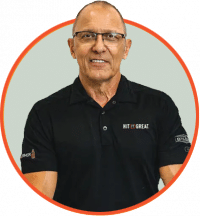 Has worked in professional golf for over 30 years and as a conditioning Coach since 1986. Chris was one of the very first to introduce the notion of sport-specific training to professional golfers.
Clients
Rickie Fowler, Corey Pavin, Zach Johnson, Stewart Cink, Steve Stricker, Steven Ames
Goal: Better Range of Motion
Commitment: 4 Workouts/week
Results: Better Flexibility
I've trained with Kolby for a few years – it's been a life change! I look and feel like I am 20 years younger. My golf game has gotten so good! Take the step, it's a game changer.
Goal: Win
Commitment: 7 Workouts/week
Results: 30 Professional Wins, including The Masters, US Open, Fed Ex Cup, and World #1
Working out has always been part of my life. But dedicating myself to golf-specific fitness training has made a huge difference in my career. It doesn't just help me physically, it helps my mental game, too.
Goal: Game Improvement
Commitment: 5 Workouts/week
Results: The best golf I have played in my life!
Adding the workouts and exercises in the Hit It Great App, I have significantly improved my overall physical fitness, mobility, swing speed which have translated to lower more consistent golf scores. Lowered my handicap from 7 to 3 in one summer and shot 69 which is my lowest score ever and the first time I have broken par.
This app is incredible. I have been searching for a specific golf fitness app and finally found one. The Big 3 are great, all exercises and workouts are explained in simple ways to understand. I highly recommend for individuals looking for golf specific workouts and exercises.
-BMBJR1 App Store Member
This app is amazing. I love the Big 18 and Dustin's set of exercises. It has been great and helped me gain mobility again after my injury. Highly recommended app.
-Osito2109 App Store Member
"The work I've done with Joey D has absolutely helped my game and it's helped me get where I am."
-Dustin Johnson
"Coach K-Wayne keeps me on track. Before I'd been hit-or-miss with my fitness, and you can't be hit-or-miss when it comes to working out."
-Harold Varner III
"It's like less is more. I've felt the best I ever have just by working out three or four times a week versus every day. The workouts are so specific to you and to golf."
-Jaye Marie Green
"I won the U.S. Open in 2009, but today, at 40, I'm working hard with Coach K-Wayne and swinging the club faster than I ever have, playing better and more consistently."
-Lucas Glover
I feel better than i ever have. Turning 50 this year and my handicap dropped by four shots. The only thing I've done different are these workouts. Thanks Joey D! I appreciate all the work you and the coaches did to make this accessible to somebody like me.
-Rob B
I shot my best score ever last weekend. Shot 69!!! First time I have ever broken par. My fitness app is officially translating to lower golf scores. Love it.
-Benjamin B.
Workouts and Classes that target specific golf movements
Our coaches are
everywhere you are
Home, Gym or On The Road. We've got you covered wherever you like to work out. Stream phenomenal golf fitness workouts in your browser and through our apps for iOS and Android. Start your golf fitness journey today!
Are you
ready to
hit it great?
Get started today with access to our complete golf fitness training library. Whether you've been working out for years or just getting back into it, you owe it to yourself and your game to move better, feel better and play better!